There's a lot of information about e-readers out there. We're here to help you make a decision based on what you need as a book-lover. So here are some recommendations for the readers out there if you're thinking about making the e-reader plunge.
For the Cheap Reader

About you: You get most of your books from the library or borrow them from friends. You can't afford a whole bunch of new books all the time, buying a book is a special occasion.
Why you should get an e-reader: You can get library books on it. You can borrow books on most of them. You can get loads and loads of free books. And many books are cheaper on Kindle than the are in hard copy.
Your Ideal E-Reader: If you're paying for it, stick with the $69 Basic Kindle
.
It's the cheapest option on the market. It will come with ads and it won't have any kind of fancy accessories like a touch screen or a light, but you're all about keeping it minimalist anyway, right?
For the Hipster
About you: You buy all your books from your local independent brick and mortar bookstore. You may even resist the idea of an e-reader because it'll look too trendy and no one will see what book you're reading.
Why you should get an e-reader: You can buy from your favorite Indie bookstore even if they're closed. You can read giant epics without hauling them in your bag. And no one will know when you secretly read a trendy new romance you're too embarrassed to admit you love.
Your Ideal E-Reader: The Kobo Mini $79 or the Kobo Glo $129 are the way to go. You can set up your Kobo account to buy books from your favorite indie bookseller (not only is our friend Powell's there, we also found our favorite Boston shop and our favorite Austin shop so you should be covered). If you want to keep it on the down-low, the Mini is the smallest e-reader out there and not as recognizable as the Kindle or Nook. But if you're going to want it in bed, consider the Glo.
For the Constant Reader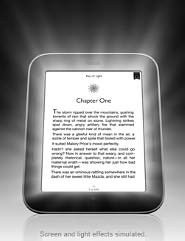 About You: You love books. Lots and lots of books. You must have them all the time. You keep one in your purse and several on your nightstand.
Why you should get an e-reader: Not only is it cheaper to buy e-books, it's also a lot easier on your overstuffed bookshelves at home and your overstuffed suitcase on vacation. You don't have to give up paper books forever, but you can cut back a little. After all, books are big and heavy. (How many boxes of books did you have last time you moved, eh?)
Your Ideal E-Reader: The Nook Simple Touch with Glow Light. Reading in bed is a must for you, as is reading in daylight. You need a reader that'll work anywhere. This isn't a machine to watch movies or listen to music. It's for reading, pure and simple. It's also completely ad-free. This one is currently marked down to $119.
For Anyone and Everyone

About You: You like books. You like a lot of variety. You like convenience.
Why you should get an e-reader: Flexibility. Period. You can't get absolutely every book as an e-book, but there are plenty of books you can ONLY get as an e-book. There's also an abundance of self-published books out there that are cheap and/or free.
Your Ideal E-Reader: The Kindle Paperwhite 3G
 ($179 with ads, but we'd go without for $199). Like others it has the light-up screen that doesn't strain your eyes the way a television or computer screen does. It's readable in daylight, unlike a smartphone or tablet. The 3G is the big deal here, you don't have to have a wifi connection to make a purchase unlike all the other e-readers. You can be at the park and buy a book. You can be at the airport and buy a book. Plus the Amazon bookstore has a huge and easy-to-navigate Kindle Store and always has their Top 100 Paid as well as their Top 100 Free Kindle Books listed.
For the Tech-Lover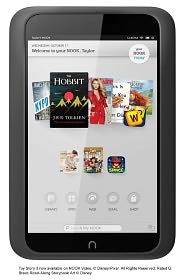 About You: You want a tablet, but you don't want an iPad. You'd like to stream video, listen to music and use apps.
Why you should get an e-reader: There are a lot of tablets out there, but the Nook HD and Kindle Fires have all the books in addition to being great tablets.
Your Ideal E-Reader: Take your pick. You'd rather check out the specs yourself, right? You've got 2 versions of the Nook HD starting at $199 and 3 versions of the Kindle Fire
, starting at $159.
If you still can't decide, you can get your hands on Nooks at Barnes & Noble or Target, while Kindles and Kobos are available at several retailers, including Wal-Mart, Best Buy, Staples and more. Hold it in your hand, take it for a spin and see how you like it.